The sun provides an uncontrolled and inexhaustible supply of free energy that can not be simply switched ON or OFF. Proper system design is therefore paramount to both saving you money and ensuring long term equipment reliability and durability.

How Much Water Do You Consume? Chances are your needs will differ from your neighbour.

The one size suits all rule does not apply in this industry. An improperly sized solar water heating system will either not keep up with your hot water demand, or constantly boil water during the summer months. This will cost you money in top up heating, or too much capital outlay on the outset, or worst case scenario, premature failure of your system.

We have computer monitored our products performance over many years and have a very good understanding of the real life performance characteristics. We will take your hot water and home heating requirements into account and after considering all the factors and after careful analysis will recommend the optimum equipment combination to suit your requirements.

With attention to detail during the design and installation, using high performance quality solar water heater components it is cost effective to achieve hot water heating energy savings of between 75% and 85%.



We have a range of PUMPED and THERMOSIPHON solar water heating products on offer, and these can be used in conjunction with any of the following pieces of equipment:

Gas or Electric Hot Water Cylinder
Wetback and Wetback Hot Water Cylinder
Gas or Oil Boiler
Gas Califont
Yours not listed? Don't worry, let us know and we will work out a solution.
To ensure you achieve the optimum energy savings, we provide a tailor-made solar water heating system, sized to suit your hot water consumption requirements.

Our vacuum tube collector does not rely on reflectors for improved performance. The gaps between the tubes allow leaves and water to pass through. A passing shower is sufficient to wash dust away and will wash the roof underneath the collector at the same time.

Our products are aesthetically pleasing and designed to maintain their good looks with next to no maintenance. Some designers like to incorporate the product into the building design or make a feature out of it.

The diagram below demonstrates the range of installation options available for both the DF and HP Series of vacuum tube solar thermal collectors.

If you want to heat your home, please check our Home Heating Section for more information.


We have a number of products suited to OFF THE GRID water heating, please refer to that section.


The HP series refers to our Solar Fin Vacuum Tube Solar Collector and is available with 70mm and 100mm Diameter Solar Fin Vacuum Tubes. The collectors are most commonly installed as a pumped system.

This solar thermal collector can be installed with the vacuum tubes inclined between the angles of 25 and 90 deg from horizontal.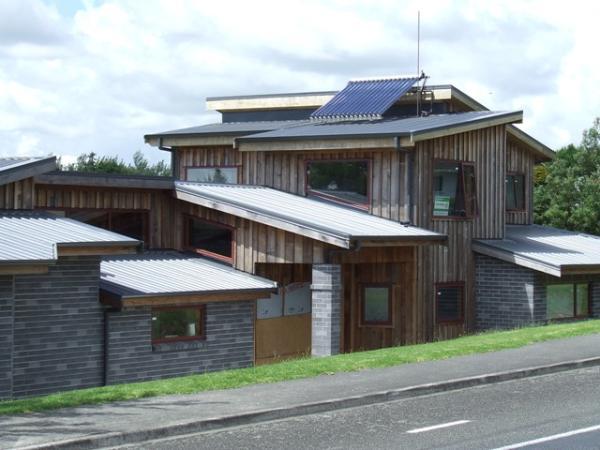 Model HP100M16 in combination with 250 L wetback HWC.
For optimum all year performance install vacuum tubes at an angle equal to your latitude
Tubes can be installed between the angles of 25° and 90°
Fitted directly onto pitched roof - minimum pitch 25°
Flat roof mounted with support frame
Wall mounted - vacuum tubes in vertical orientation
Other...


This solar thermal collector is unique in its design and exhibits exceptional water heating performance and installation flexibility. The Solar Fin vacuum tube solar collector can be installed virtually flat or wall mounted.


Each vacuum tube is fitted with a Solar Fin. Individual vacuum tubes are rotated until the Solar Fin is at the optimum angle to the sun. The clear glass vacuum tubes of the solar thermal collector allow light to shine through, with the Solar Fins providing filtered light in the summer, and daylight during the winter months.


The circular nature of the vacuum tube means they are also self cleaning, and the gap between the tubes means leaves can pass through and will not build up.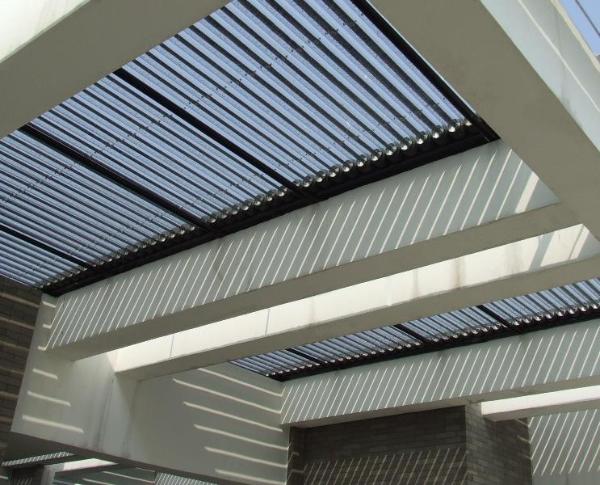 Series DF - Pergola Installation - Unobtrusive installation & filtered sunlight

Laid flat directly onto a flat roof - unseen
Incorporated into pergolas - providing semi shade & blends in with the structure
Balcony handrails
Building fascia
Fitted onto pitched roofs
Other....