Gerben was just a fantastic addition to our build. We were being pushed by our builder to put in a solar hot water and heating system that we didn't feel was right for our needs and didn't feel the contractor was listening to us as we live completely off-grid and had specific requirements.

I found Gerben on the web and he instantly 'got it'. He asked us the right questions and really engaged in a constructive discussion-giving advice but also listening.

He gave a thorough and clear quote and provided all documents to the council, our builder, and the other sub-contractors ahead of schedule and in full. He could not be faulted for any service.

He showed up on time and even stayed on when other sub-contractors pushed out his work. He communicated with everyone and at the end of the day we have a reliable, off-grid friendly, sustainable hot water and home heating solution.

Naya Brangenberg, Masterton, Wairarapa


I recently replaced my solar water heating system after 20 years service. I engaged Solar Corp NZ Ltd to replace the system, with the latest German receptors and equipment. I find that the new system is more efficient and cost saving than before.

I highly recommend, Solar Corp NZ Ltd, for a highly efficient installation and back up service, to anyone interested in installing solar heating.

Les Featherstone. Pakuranga, Auckland


Gerben at Solar Corp provide a fantastic full service from independently recommending the best equipment and solutions – right through to actually installing most of the solution himself and overseeing any sub contractors that need to be involved.

It was great to have someone with the technical knowledge, expertise and passion working on our project which was delivered on time and on budget and I would highly recommend him and Solar Corp to anyone thinking about installing Solar into their house.

Alastair Rhodes, Pyes Pah, Tauranga


Thank you Gerben,

It's nearly 3 years since we've moved into our new off the grid house and your system is working brilliantly. Your tubes, together with a backup Marshall's boiler are providing all the hot water and heating we need.

Your professional design, installation and helpfulness are all greatly appreciated. Very impressed with the way you designed, connected and got the whole system up and running for us.

All the very best to you and yours both professionally and personally.

David Campbell, Otaki, Kapiti Coast


David and I would highly recommend Solar Corp NZ Ltd, and especially Gerben Muntendam, to anyone thinking of installing a solar water heating system into a building.

Quiet and efficient, Gerben went out of his way to make our retrofitted system neat and tidy.

He has been extremely patient explaining how the system works and it works very well. We are very pleased with an excellent system that is very efficient.

David and Jeanine, Warkworth, Rodney


Don't think you could improve on your service Gerben, no issues at all and would recommend this system to anyone thinking of putting a solar system in.

I can say from the very start on the planning of my build your input, information and guidance right through to the finished project has been has been exceptional.

To sit here tonight with the wind and rain outside and feel the heat coming up through the floor is a real treat, thanks for talking me into it.

Gary Willison, Urenui, Taranaki


Gerben was great to work with, he got the job done in excellent time and the workmanship has proven excellent.

Most other places I contacted simply said the project wasn't possible so I was very pleased to deal with someone who could work with a non standard situation.

I had one unexpected failure and he was quick to arrive and replace the faulty component even though the failure was probably caused by external factors.

I would not hesitate to recommend Gerben to anyone.

Chris P, Dairy Flat, Rodney


We contacted Gerben in 2009 when we were building our new home as we were interested in his company's solar hot water system. He had been recommended to us. We immediately knew from our first contact with Gerben that he was the person we wanted to do the job for us.

He had a very good system, put together to suit our requirements...His system isn't a one size fits all.

Gerben was always available by email or phone to answer any questions we had. He was excellent to deal with, did a great job and we are very happy with our solar hot water system. Any queries we had after installation were answered quickly and he often called in when he was down here just to check the system was working well.

Steve and Karen Luxton, Urenui, Taranaki


Dear Gerben

Overall, very pleased with the workmanship - first class service and prompt installation by a knowledgeable technical specialist in the field. Especially appreciate the custom situational install details which also allows for client input.

Mike Dutt, Ashurst, Palmerston North

Domestic Solar Hot Water, Wetback and Radiator Central Heating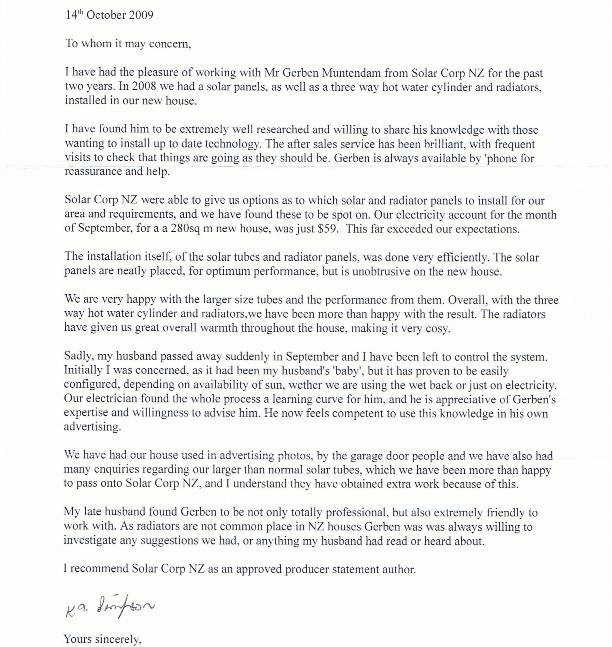 Domestic Solar Hot Water with Wetback