Solar Corp NZ offer a wide range of home heating solutions and will designs a home heating system to suit your personal preference, budget and expected running cost.

Our Home Heating systems often include a combination of:

DDG Multi Fuel Central Heating Wood Fires
Hydronic Under Floor Heating
Radiator Central Heating
Solar Water Heating
Solar Pool & Spa Heating
Solar Hydronic Under Floor Heating
STES - Seasonal Thermal Energy Store
Geothermal Hot Water Bore
Gas Cali-font in combination with Radiators
Consider Passive Solar Design when building new - reduces your heating demand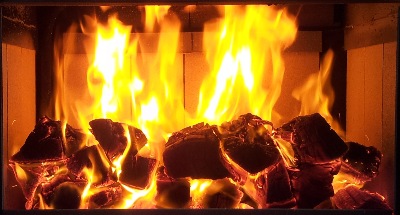 Solar Corp NZ are the New Zealand Agent for DDG. The DDG is manufactures in Belgium and is essentially a Multi Fuel Central Heating Boiler that looks like a conventional fireplace and can be installed directly into your lounge. The DDG can be used to heat just about anything including:

Hydronic Under Floor Heating
Radiator Central Heating
Spa Pools
Domestic Hot Water
Swimming Pools
The DDG is extremely easy to operate and is completely self regulating. The air supply to the DDG combustion chamber is ducted from outside, and this air flow is adjusted automatically to ensure an optimum fire burn rate, thereby minimizing emissions and maintaining a steady water temperature to the central heating system.

Each DDG is custom made to order, providing our clients with a high degree of flexibility during their built. The DDG are available as:

Models include: ECO, F Series, F-900 Series - Please contact us for specifications
Available as In-Built or Free Standing
Single glass door
Single glass door to front and solid read door to back
Double glass door on opposite sides of the fire - see through effect
Planus Door available to conceal ash tray and heat exchanger service panel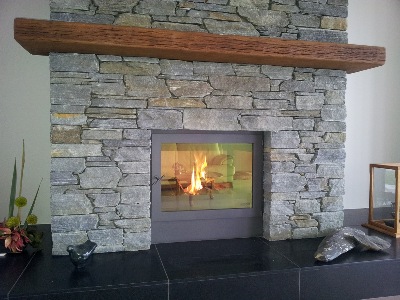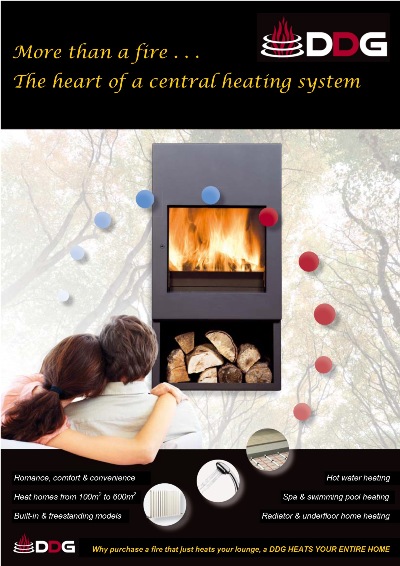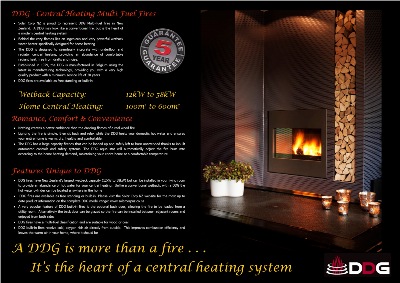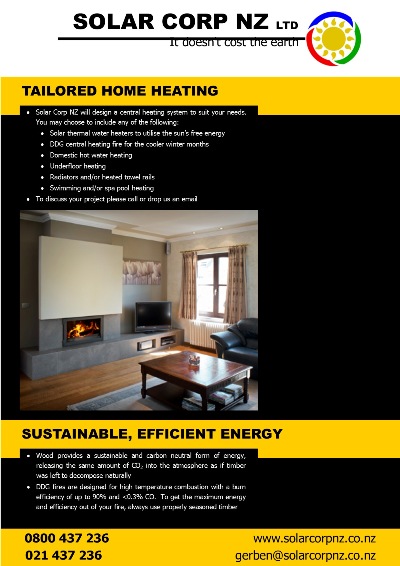 If you are building new it makes sense to harness the sun's heat energy and store this within the thermal mass of the building. The level of effectiveness will depend on the choice of materials, building design, thermal insulation, geographic location in NZ and careful attention to construction details.

Regardless of where you live in New Zealand, you will require some alternative form of backup heating for the winter months to maintain the home at a comfortable and healthy temperature of between 18 C and 22 C.

Modern insulation and double glazing only slows down the rate of heat transfer between a warm and a cold space (inside and outside and vice versa) reducing your heating energy requirements, it will not heat your home.

Solar Corp NZ are the agents for DDG Central Heating Fires. A DDG is the ideal companion for hydronic under floor or radiator central heating.


Solar Corp have develloped the Seasonal Thermal Energy Sink (STES) to the point where we are now confident in offering this technology to the consumer. The concept involves converting solar radiation into thermal energy (heat) using our Solar Fin Vacuum Tube water heaters, and storing the heat in an underground reservoir.

The Solar Fin Vacuum Tube water heaters provide all the homes domestic hot water and maintain the home at steady temperature throughout the year.

The STES will provide the necessary thermal energy during the winter months on days when there is insufficient solar radiation.

The advantages of incorporating an STES in your home are:

Maintain the home at a steady temperature throuhgout the year
Provide free hot water throuhgout the year
Reduce home heating costs to the absolute minimum
Domestic hot water and home heating for less than $ 0.50 per day ($ 0.30 / kWh)
The STES holds true to our principles of generating the maximum amount of thermal energy for the least amount of electricity input. The STES systems operate at a COP = 60:1, and are far more efficient than a heat pump with a COP = 3:1

Incorporating a STES in your home is not a simple task and requires carefull planning and design. It is not suitable for locations with a high water table. If this concept is of interest to you I encourage you to contact us during the planning stages to enable us to advise you on the best possible solutions. With the aid of our computer model we can simulate your building heat losses and make a recommendation on the size of STES and solar thermal system required.


A hydronic floor heating system is made up of pipes embedded into a concrete slab, circulating pump and manifold, control system and a heat source. A buffer tank is often also incorporated to enable the system to store extra heat energy, to be used at a later time when the heating system is switched off.

The heat source can be a DDG, Solar Corp Solar Fin Vacuum Tube water heating system, Boiler, wetback (very small areas) or a heat pump.

Hydronic under floor heating is gaining popularity in New Zealand and is ideally suited to exposed concrete and tiled floor finishes.

A big advantage of hydronic under floor hearing is that the water temperature requirements are relatively low compared to radiator central heating. With the right type of solar water heaters, the floor can be heated during the winter months, but suitability will depend on numerous other factors which need to be taken into account during the design process.


Solar energy can be used to either supplement or provide all of the necessary heat energy to maintain the concrete slab temperature throughout the year. There are a number of factors to consider for a successful solar heated under floor heating system.

I would encourage you to contact us during the planning stages to enable us to advise you on the best possible solutions. With the aid of our computer model we can simulate your building heat losses and make a recommendation on the solar requirements.


The benefit of a solar heated under floor heating system is the incredibly low running costs. A typical system will operate with a COP of between 40:1 or 60:1. This effectively means that the system generates 60 times more power then the electrical input. For a 60:1 COP we produce 60 kWh of heating with 1 kWh of electrical input. A ratio far greater then any heat pump can achieve.


Radiator Central Heating is gaining popularity in New Zealand. Modern radiators are compact, very efficient and quiet. Your home will be warm within minutes.

It is also ideal for properties with timber floor construction, or as a retrofit solution for existing properties where under floor heating is not an option.

CENTRAL HEATING - PRINCIPLE

The radiator circuit is connected to a hot water storage tank complete with heat source. The heat source is typically a DDG or a boiler, but depending on the heating requirements a wetback may also be suitable.

Warm water from the storage tank is pumped through the radiators. In-room thermostats or radiator thermostats regulate the heat output from the radiators to ensure the room is maintained at a constant comfortable temperature.

The water temperatures of a central heating system is typically in the range of 60 C to 90 C. Solar Corp Vacuum Tube Water heaters are often used to take the load of the boiler, effectively pre heating the storage tank during the daytime.


If you are considering central heating for your home, please contact us in the first instance. We can recommend the correct equipment combinations and either provide you with a complete installation, or supply you with all the necessary hardware and instructions to install the majority of your central heating system yourself.


Modern Radiator Central Heating system are compact, unobtrusive, quiet and heat your home in a matter of minutes. They are available in a wide variety of sizes and include heated towel rails for the bathrooms.